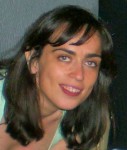 It's always stimulating to discover a new artist, even more if, in a mostly male-dominated field, it happens to be a woman. Welcome to the young and bright Zeltia Montes. Thanks to the fresh partition she composed for her first full-length picture, Pradolongo, she left the 2008 edition of the International Film Music Festival of Ubeda with two Jerry Goldsmith Awards (« For Young Creative Music Composers For The Audiovisuel Media »), including the most important, the Best Composer of the Year Award.
The biography from your website claims that you started to compose in a natural way at the age of nine. What did you compose at that time ? Do you have any special memories of these early compositions ?
I remember those compositions quite clearly and I can even remember the excitement I felt when writing them. They were all similar in style to what I was playing at that time, which was mainly Mozart. I don't think they were especially good for my age but I was really enthusiastic about them and always called my mother to play them for her. It was very funny that I didn't know how the key signatures worked well enough, so I just invented my own way of writing them. The sweet part is that most of them were dedicated to my grandparents and they had English titles. The first one was called « As Clear As Crystal », but I can't remember why I gave it that name…
Your bio also says that you consider music composition as a way to communicate and to get to know yourself better. What did you learn about yourself through music ?
I have learnt so many things through music that it is difficult for me to decide what has been more relevant. I have learnt the importance of not only listening to others but also listening to myself at all levels and to trust my judgement. I have learnt that I can achieve anything if I put enough passion, patience and perseverance, and to believe that I have something unique inside me. I have also learnt that I am a much stronger person than I ever thought, that I can only create art through honesty and love, and to value myself, my education and where I come from.
Why did you leave Spain and choose to study film music at the Berklee College of Music ?
I really felt I needed to live and study in another country and get a fresh approach to studying music. I had heard that Berklee had an extremely large international community and meeting musicians with such varied musical backgrounds, interests and cultures was very appealing to me. There was also no place where I could study film music in Spain and I thought it was a wonderful opportunity to study it in a place where I would use the latest technology, study classical composition, and learn modern music of all types, including jazz, and get my compositions played.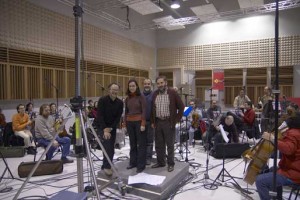 Do you feel that there is a different way to consider music in the USA, as opposed to Europe ?
I think that music in the USA is more business oriented and that in Europe it is more focused on creating art. Of course, I do prefer the European way of thinking much more but it is true that most musicians in Europe are enormously talented but have difficulties trying to make a living. I think it is good to get both points of view since knowing how to sell yourself and broadening your work possibilities will also determine the longevity of your career.
Can you explain in a few words how you learned film music in Berklee ?
It was mainly focused in learning all the technical aspects of writing for film, how to use all the sequencers, music libraries, all the routine involved in using the hardware and software, as well as planning the cues and preparing the recording sessions. I think it is very important that you have a good musical and compositional foundation before, because they don't teach you that there, and being able to use all those tools will not make you a film composer.
You came back to Spain for your first professional assignments, both on a TV series (El Camino del Cid) and a feature film (Pradolongo). How did you get involved in these projects ?
In fact, I didn't go back to Spain. I composed both of those scores in Boston. I only went back to Spain on vacation and that is when I was interviewed for those works. In both cases it was someone that was close to me and both of them knew about my studies in film scoring and had worked with the directors of each project so they talked to them about me. The directors interviewed me before I went back to Boston and then I sent demos and both of them decided to give me an opportunity and hired me. I must say they were immensely pleased with the results.
El Camino del Cid : Main Title
Pradolongo is your first full-length feature film. What essential teachings did you benefit from this experience ?
I think the most important lessons I got from such a demanding job have been to be very communicative with the director, to be prepared both physically and mentally for barely sleeping and having to be creative and at full potential for such a long time, to be very alert and sensitive to the film and compose the music it needs and not what you think it needs, to talk to the musicians about the scene and the musical intentions and to try to enjoy the process as much as possible.
Pradolongo : Main Title
You scored the movie more through its inner feelings than the characters from the film. Was it a natural way to approach it this way ?
I talked about it with Ignacio Vilar, the director, and it was clear to both of us that this was what the music needed to portray. It was difficult to find exactly what those inner feelings were with all their subtleties and then feel them myself in order to be able to translate it into music.
Pradolongo : Trevinca Mountain
You said that Ignacio Vilar did let you free to create for his movie. But you'll probably meet at some point a much more directive director…What do you expect from a collaboration with a director ?
I don't mind a director being directive if he/she has a defined point of view and is clear on what is to be achieved and in the way of explaining it to me. One of the things I most like about composing for film is the fact that it is a collaborative art and that we all work towards creating something that goes beyond our contribution. The more I understand the director's intentions, the better I will be able to search in the same direction and exchange ideas that really work to pursue what is desired as well as the best environment for creativity.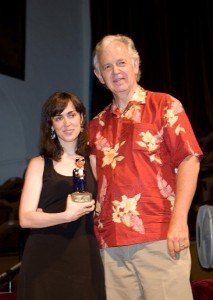 As a young composer, how do you feel after receiving two Jerry Goldsmith Awards, including one for Pradolongo, during the Ubeda Film Music Festival ?
I am extremely honoured and proud to have received the Jerry Goldsmith 2008 for Best Young Composer and for Best Score in Feature Film. It was a very special moment for me for many reasons. First, because the award carries the name of a composer I have always admired and who I believe is one of the greatest composers in the history of film music. Secondly, because both awards were given to me by another very admired composer, Bruce Broughton. Also, because Pradolongo was a low-budget feature film that deals with basic and subtle feelings and my score to it was not a typical film score in any way and I was really happy to find that so many people had appreciated it. It was also especially emotional to me because when I received the awards I had only just recently moved to L.A. and was having a difficult time trying to adapt to the city and the way of life so this encouraged me to keep fighting. I also feel it was in a way a small reward to all the effort my mother has put into my education by working so hard to allow me to study in the USA and pursue my dream of composing music for film.
You used celtic influences in Pradolongo to symbolize the Galicia land, and said in an interview that your musical influences were coming from many different genres: classical, jazz, world music, film music… Do you prefer to mix different types of music? Is it the way you want to compose ?
It's not that I prefer to mix different types of music, I think the music I compose for film is determined by the story, the images, the light, the smell, the feelings, etc. I do have a preference for musical fusion but only when it can be used for the film. My main objective when composing film music is to write a score that blends perfectly with the picture and elevates it by adding another dimension to it.
You use many instruments coming originally from folklore music. Do you have a particular taste for these instruments, instead of a more conventional use of the orchestra ?
I do really like instruments from any corner of the world, but also love the possibilities of the symphonic orchestra. Again I just feel it depends on what that particular project requires. It is sometimes safer and faster to record a symphonic orchestra since the musicians are excellent sight-readers and can play it sounding really well right away. Folk instrumentalists are also excellent musicians but are not trained to read music that well and they perform in a more free and intuitive way which may cause composers to want to avoid the trouble. I just try not to be scared about anything and if I feel the need to use a particular instrument, I'll do it, I'll learn about it, will find the instrumentalist, and will convince the director that it would be worthwhile to spend more time in the recording since the result will be so much better.
Do you have a favourite movie genre that you're particularly attracted to, in a musical way ?
I don't think there is a particular genre that attracts me in a musical way. I do tend to prefer dramatic films but not necessarily in a musical way. I don't compose thinking about the movie genre and the type of music that goes with it. I treat every film uniquely and base my score in the characteristics that are specific to it regardless of its genre. If the story is good it will have a complex mixture of emotions that cannot be simplified.
You now live in Los Angeles. English composer Jane Antonia Cornish said that when she moved to California, it was for her, as a young European composer, a leap of faith. What about you ?
It's great that you mention her because I think she is very good and I really hope to see more women composers. Women are still a small minority in the film industry and especially in film scoring and I really don't understand why. I think my decision to move to L.A. was definitely also a leap of faith since I had to convince myself and the people that are close to me that it would be a good choice and that such a big effort would be worthwhile. I have only been living here for five months and film scoring is a long-distance career so I still can't tell. I do however hope and feel that it is getting less necessary to live in L.A. or any other place since communications have improved so much and are much more affordable. Most film composers send the completed cues through internet for approval and then record in a different city anyway so it is not necessary for the composer to be in the same city as the director or producers. I think it is more of a psychological fear that many directors still have but this is rapidly changing.
What are your upcoming projects in USA, Spain… or, who knows, France ?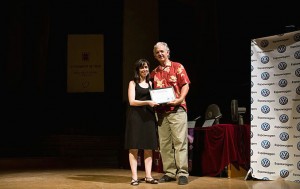 I have recently composed the music for a short film that I really liked by the New York-based director Craig Macneill. I have two other shorts to score now and one feature too, but since it is not signed yet and you never know until the very end I don't want to anticipate anything. All these works are from the States but I really look forward to work for European films. I have always especially liked French cinema, so it would be a dream for me to be able to contribute with my musical viewpoint to French films. I also deeply hope to be able to keep working in Spain and get to work with some of the directors I have admired since I was a kid, and some of the excellent upcoming Spanish directors.
Apart from a successful film music career, do you have a specific musical dream ?
My main musical dream is to always have the passion, the enthusiasm and the will to keep composing and learning no matter how successful or not I am. I wish to be able to compose chamber music, orchestral pieces, ballets, songs, music for new media, audiovisuals and any other art form that I find interesting, challenging and original. I would really like to get as many of my pieces as possible played, since there is nothing comparable to the joy of listening to your music played by great musicians.
---
Interview by Olivier Desbrosses & Florent Groult.
Transcription : Olivier Desbrosses.

Pictures : © Zeltia Montes / Julio Rodriguez.

Music : © Zeltia Montes.