Star Trek en intégrale chez La-La Land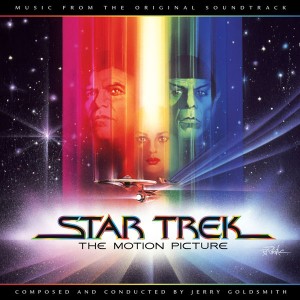 Il aura fallu attendre plus de trente ans pour que l'un des fleurons de la discographie du grand Jerry Goldsmith bénéficie enfin d'un traitement à la hauteur. Grâce aux efforts de La-La Land Records, l'attente des amateurs sera enfin comblée le 5 juin prochain avec la sortie d'un triple album entièrement consacré à Star Trek : The Motion Picture (Star Trek : Le Film), le premier opus cinématographique de la célèbre saga.
On y retrouvera donc la partition telle qu'entendue dans le film dans son intégralité, remasterisée et remixée à partir des masters originaux de 1979, mais aussi nombre d'autres morceaux et thèmes inutilisés (dont une extraordinaire version du célèbre The Enterprise) et de versions ou prises alternatives. Le tout sera complété par la version album de 1979 ainsi que quelques raretés comme la version disco du fameux thème de Goldsmith et même la version chantée du Love Theme ! Un objet de collection (l'édition est limitée à 10.000 exemplaires) qui s'avère indispensable pour tout fan de Goldsmith et/ou de Star Trek !
DISC 1

---

The Film Score

 

01. Overture (1:43)
02. Main Title / Klingon Battle (7:01)
03. Total Logic (3:54)
04. Floating Office (1:08)
05. The Enterprise (6:02)
06. Malfunction (1:30)
07. Goodbye Klingon / Goodbye Epsilon Nine /
Pre-Launch (2:10)
08. Leaving Drydock (3:32)
09. TV Theme / Warp Point Eight (0:50)
10. No Goodbyes (0:53)

 

 

 

 

11. Spock's Arrival (2:03)
12. TV Theme / Warp Point Nine (1:49)
13. Meet V'Ger (3:06)
14. The Cloud (5:05)
15. V'Ger Flyover (5:01)
16. The Force Field (5:07)
17. Micro Exam (1:13)
18. Games / Spock Walk (9:51)
19. System Inoperative (2:03)
20. Hidden Information (3:58)
21. Inner Workings (4:04)

 

Total Disc 1 Time: 72:06

DISC 2

---

 

01. V'Ger Speaks (4:04)
02. The Meld / A Good Start (5:37)
03. End Title (3:16)

 

Total Film Score Time: 85:03

 

The Unused Early Score


 

04. The Enterprise (6:05)
05. Leaving Drydock (2:39)
06. No Goodbyes (0:55)
07. Spock's Arrival (2:00)
08. Micro Exam (1:15)
09. Games (3:49)
10. Inner Workings (4:43)

 

Total Unused Early Score Time: 21:26

 

 

The 1979 Album

 

11. Main Title / Klingon Battle (6:50)
12. Leaving Drydock (3:29)
13. The Cloud (5:00)
14. The Enterprise (5:59)
15. Ilia's Theme (3:00)
16. Vejur Flyover (4:56)
17. The Meld (3:15)
18. Spock Walk (4:17)
19. End Title (3:16)

 

Total 1979 Album Time: 40:02







Total Disc 2 Time: 74:31

 

 

DISC 3

---

 

Alternates

 

01. Overture (Long Version) (2:50)
02. Main Title (Alternate Take) (1:44)
03. Total Logic (Alternate Take) (3:49)
04. Malfunction (Early Take) (1:28)
05. Goodbye Klingon (Alternate Take) (0:35)
06. No Goodbyes (Alternate Take) (0:53)
07. Spock's Arrival (Alternate Take) (2:01)
08. The Force Field (Alternate Take) (5:04)
09. Micro Exam (Alternate Take) (1:14)
10. Games (Early Synthesizer Version) (3:48)
11. Games (Alternate Take) (3:48)
12. Inner Workings (Alternate Take) (4:05)
13. V'Ger Speaks (Alternate Take) (4:03)
14. The Meld (Film Version) (3:16)
15. A Good Start (Discrete) (2:27)
16. Main Title (Album Take) (1:44)

 

Total Alternates Time: 42:49




Additional Music

 

17. Main Title (First Raw Takes) (7:21)
18. The Force Field / The Cloud (Excerpts) (2:33)
19. Beams & Synthesizer For V'ger (4:04)
20. Beams & Synthesizer For Ilia (0:59)
21. Synthesizer For The Main Theme (1:44)
22. Main Theme From Star Trek : The Motion Picture (Bob James) (5:24)
23. A Star Beyond Time (Shaun Cassidy) (2:43)
24. Ilia's Theme (Alternate) (3:33)
25. Theme From Star Trek : The Motion Picture (Concert Edit) (3:25)

 

Total Additional Music Time: 31:46







Total Disc 3 Time: 74:35