Ken Russell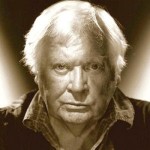 KEN RUSSELL
RÉALISATEUR
J'avais remarqué la musique de Jules et Jim. Elle me semblait aussi forte que le film en lui-même. Le lyrisme de la promenade à bicyclette est absolument magique. Aucun autre compositeur n'aurait pu réussir cela. Il y a trente ans, j'ai réalisé ce film (Don't Shoot The Composer), une satire d'une équipe de la BBC tournant un documentaire sur un célèbre compositeur français. L'un des grands talents de Georges était de pouvoir faire rendre davantage à une scène, de pousser plus loin l'idée de départ, de la faire aboutir au plus spectaculaire. Georges avait cette qualité si rare : l'art de transfigurer le travail du cinéaste. Si votre scène comique n'est pas aussi drôle que prévue, Georges la rend plus drôle. Si vous voulez du soleil et que vous avez la pluie, il fait briller le soleil ! Seuls Dieu et Georges Delerue peuvent faire ça ! (rires) Voilà pourquoi tant de gens, ayant découvert qui il était, le voulaient. Et quand j'ai compris quel personnage unique il était, et qu'il écrivait de la musique de film comme personne avant lui, j'ai voulu faire un film avec lui. Voilà pourquoi j'ai fait ce film, comme un hommage au plus grand musicien de film de tous les temps.
---

I had noticed the music of Jules And Jim. It seemed to me as strong as the film itself. The lyricism of the bike ride is absolutely magical. No other composer could have achieved that. Thirty years ago, I directed this movie (Don't Shoot The Composer), a satire of a BBC team shooting a documentary about a famous French composer. One of the great talents of George was to be able to get more from a scene, to push further the original idea, to make it more spectacular. George had that rare quality: the art of transfiguring the work of the filmmaker. If your comedy scene is not as funny as expected, George makes it funnier. If you want the sun and you have rain, he makes the sun shine! Only God and Georges Delerue can do that! (laughs) That's why so many people, having discovered him, wanted to work with him. And when I understood how unique he was, that he wrote film music like no one before him, I wanted to do this film with him. That's why I made ​​it, as a tribute to the greatest movie composer of all time.
WOMEN IN LOVE | Suite
---
Extrait de Georges Delerue : Une Vie, de Frédéric Gimello-Mesplomb - Éditions Jean Curutchet, 1998 - Reproduit avec l'aimable autorisation de l'auteur.
La version complète de l'ouvrage peut être consultée sur le site de l'auteur.