François Truffaut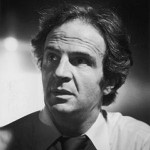 FRANÇOIS TRUFFAUT
RÉALISATEUR
Depuis Tirez sur le Pianiste, je travaille avec le même musicien, Georges Delerue, qui est devenu mon musicien de film préféré, parce qu'il est le plus cinéphile des musiciens. C'est très difficile pour un musicien de faire une musique de film, parce qu'on lui montre un film à un stade du montage où les longueurs sont fausses, le rythme n'est pas là… On croit que c'est le film, mais c'est le stade le plus lointain du résultat final.
Je trouve qu'il faut vraiment bien connaître le cinéma et vraiment bien l'aimer pour pouvoir, à ce moment-là, voyant le film, en deviner les intentions et éventuellement les qualités. On appelle le musicien à un moment où l'on est soi-même un peu démoralisé. On compte beaucoup sur lui. On dit d'ailleurs tout le temps dans les salles de montage : «Ça s'arrangera avec la musique !» Bref, on attend le musicien comme on attend une sorte de sauveur.
J'ai toujours été très content chaque fois que Delerue est arrivé dans mes films. J'ai toujours eu l'impression que le film prenait vie. Pour Jules et Jim, il s'est donné beaucoup de mal puisque c'était un film sur le temps qui passe, sur la nature. Ça nous ramène au thème des vacances, car les thèmes principaux de Jules et Jim étaient les moments gais et les moments tristes. On avait décidé entre nous, avec notre vocabulaire, que tous les moments gais seraient le «thème vacances», et les moments tristes le «thème brouillard». Je crois que ce «thème vacances» a été vraiment réussi, puisqu'il exprime une espèce de joie de vivre : on sent la nature, on sent le soleil, on sent que c'est vaste… Je le trouve lyrique.
Les metteurs en scène font souvent appel à Delerue, ils ont senti que cet ancien élève de Darius Milhaud est, de tous les musiciens, le plus amoureux du théâtre et du cinéma. A son Grand Prix de Rome sont donc venus très logiquement s'ajouter l'Oscar hollywoodien et le César français. Il est difficile de décrire une musique avec des mots, mais quand j'aurais dit que Georges Delerue est un blond-roux aux yeux clairs, qu'il est direct, chaleureux et fraternel, il me suffira d'ajouter, pour votre information complète, que sa musique lui ressemble et qu'il ressemble à sa musique.
---

Since Tirez sur le Pianiste (Shoot The Piano Player), I work with the same musician, Georges Delerue, who became my favorite film composer, because he is a cinema lover as well as a musician. It is very difficult for a musician to compose for a film because he watches the movie at the editing stage, where the lengths are false, the rhythm is not there… We may believe that it is the film, but it is far from the final result.
I think that it is necessary to know the cinema really well and to really like it to be able, at this moment, seeing the movie, to guess its intentions and possible qualities. We call the musician at a time when we are a little bit demoralized. We rely much on him. You hear all the time in the editing room: "That will be fixed with the music!" In short, the musician is expected as a kind of savior.
I was always very happy each time Delerue came into my movies. I always had the impression that the film took life. For Jules And Jim, he worked very hard because it was a film about the passing of time, about nature. That brings back the "holiday theme", because the main topics of Jules And Jim were the happy moments and the sad moments. We had decided, with our own vocabulary, that every happy moment would be the "holiday theme", and sad moments would be the "fog theme". I believe that this "holiday theme" was really successful, since it expresses a kind of love for life: we feel nature, we feel the sun, we feels that it is vast… It is lyric.
The directors often use Delerue, they feel that this former student of Darius Milhaud is, of all the musicians, in love with stage and movies. To his Grand Prize of Rome has been added the Hollywood Oscar and the French César. It is difficult to describe music with words, but when I say that Georges Delerue is sandy-haired with bright eyes, that he is direct, cordial and fraternal, it is enough for me to add, for your complete information, that his music resembles to him and that he resembles his music.
TIREZ SUR LE PIANISTE | Charlie
---
Extrait de Georges Delerue : Une Vie, de Frédéric Gimello-Mesplomb - Éditions Jean Curutchet, 1998 - Reproduit avec l'aimable autorisation de l'auteur.
La version complète de l'ouvrage peut être consultée sur le site de l'auteur.