Erwann Kermorvant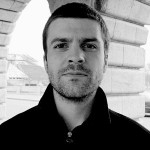 ERWANN KERMORVANT
COMPOSITEUR
PROPOS RECUEILLIS EN AVRIL 2012
Au cours de mes études aux États-Unis, j'ai eu l'immense chance d'être l'assistant d'un grand pianiste et clavier de studio du nom de Ralph Grierson. C'est en l'accompagnant sur une séance d'enregistrement que j'ai pu rencontrer Georges Delerue. Il s'agissait du film Curly Sue. Ce n'est sans doute pas son plus grand succès, mais à chaque fois que j'entends ce score, je revis chaque moment de cette journée avec la même intensité.
Ralph étant un vétéran de ce genre de séance et il avait l'habitude des demandes inhabituelles des compositeurs pour qui il enregistrait. Pourtant, ce jour-là, je l'ai vu perplexe face à l'indication inscrite en haut de la partition. Juste en dessous de «Synth I» était inscrit «Magical sound». Sans autre indication. Et puis toute une série d'accords à jouer avec ce «son magique». Ralph s'est donc lancé dans la programmation de ce son en empilant tout un tas de textures provenant de différentes sources électroniques et synthés (vive les années 90…), me demandant au passage de lui passer telle ou telle disquette ou carte de son, sous l'œil amusé du compositeur qui feignait l'impatience. Au final, Georges fut ravi du résultat.
J'ai beaucoup appris en le regardant travailler ce jour-là. Sa façon d'interagir avec l'orchestre pour en extraire le meilleur tout en conservant une ambiance de travail détendue m'a beaucoup influencé. J'y pense encore aujourd'hui lorsque je suis en séance. Et puis cette écriture, qui donne la sensation que l'image et la musique ne font qu'un, que c'est facile ! L'annonce de sa disparition quelques mois plus tard m'a profondément attristé. Mais je garde le souvenir de cette journée en moi comme le plus beau des cadeaux.
---

During my studies in the United States, I had the great fortune of being the assistant of a great pianist and keyboard player named Ralph Grierson. That's when I accompanied him to a recording session that I met Georges Delerue, for the movie Curly Sue. It's probably not his greatest success, but every time I listen to this score, I relive every moment of the day with the same intensity.
Ralph was a veteran of this kind of sessions and he was used to the unusual demands of the composers for whom he recorded. Yet that day, I saw him perplexed by the indication written at the top of the score. Just below "Synth I" was written "Magical sound". No other indication. And then a series of chords to play with this "magical sound". Ralph therefore started to program this sound, stacking a bunch of textures from different sources and electronic synths, asking me to pass him floppy disks and cards, under the amused eye of the composer who pretended impatience. In the end, George was delighted with the result.
I learned a lot watching him at work that day. How he interacted with the orchestra to extract the best while maintaining a relaxed working atmosphere influenced me a lot. I still think about it today when I'm recording. And his writing, giving the feeling that the image and music are one, that it's easy ! The news of his death a few months later left me deeply saddened. But I keep the memory of that day in me as the most beautiful gift.
CURLY SUE | Main Title