Eric Neveux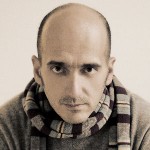 ERIC NEVEUX
COMPOSITEUR
PROPOS RECUEILLIS EN MARS 2012
Je crois que la musique de Georges Delerue m'accompagne depuis des années, et presque à mon insu ! Lorsque UnderScores m'a demandé de participer à cet hommage, j'ai tout d'abord été un peu effrayé. Je suis loin d'être un expert en musique de film, je ne collectionne pas les bandes originales en général et je ne leur voue pas de culte passionné. J'ai donc réécouté de nombreuses bandes originales de Delerue, les rééditions, et des vinyles originaux de ses scores que j'avais achetés aux Etats-Unis (et qui sonnent magnifiquement d'ailleurs). Et j'ai réalisé à quel point j'avais été influencé par sa musique. Les scores tendus (Police Python 357, The 25th hour [La Vingt-Cinquième Heure], L'important c'est d'aimer) et les plus émouvants (Le Mépris, qui m'a autant renversé dans le film de Godard que dans sa réutilisation spectaculaire dans Casino de Martin Scorsese, Le Dernier Métro, Jules et Jim, pour n'en citer que quelques-uns).
Je réalise aussi à quel point les gamins de ma génération (ceux qui sont nés au début des années 70) ont grandi au son des bandes originales de Delerue, la télévision rediffusant si souvent les films auxquels il avait contribué. En quasi-autodidacte, je passais le plus clair de mon temps à analyser les films pour tenter de comprendre comment les musiciens de cinéma construisaient leurs scores, sur quels éléments ils s'appuyaient pour trouver les bonnes articulations, les bonnes textures sonores aussi, comment les compositeurs trouvaient l'angle d'attaque, la façon de donner à leur musique une place juste, sans paraphraser l'image, en en révélant les non-dits, en précisant le regard des réalisateurs et des réalisatrices.
Delerue maniait les films avec une grande dextérité ! Il passait d'une comédie de Gérard Oury à un film de François Truffaut avec aisance, habité par le plaisir fondamental de composer pour les films, sûr de son style et stimulé par la diversité. C'est ce rapport ludique au cinéma, la capacité de remettre son style en jeu sur chaque film, et d'aborder une comédie populaire avec la même sincérité et la même ambition qu'un film d'auteur appelé à marquer l'époque, qui placent Delerue comme un artiste exceptionnel, l'un des grands défricheurs de la musique de film de la seconde moitié du XXème siècle, et le symbole d'un style français qui fascine encore aujourd'hui les amateurs de films du monde entier.
Je finis par une petite anecdote : alors que je m'apprêtais à enregistrer mon premier score orchestral pour le long métrage réalisé par Sophie Marceau, Parlez-moi d'amour, j'étais assez terrifié par la perspective d'entendre ma musique jouée pour la première fois par un grand ensemble. Je rasais donc les murs du studio Davout à Paris, espérant que Sophie monopoliserait suffisamment l'attention des musiciens pour que je puisse me fondre dans le décor ! C'est alors que la monteuse du film, Claudine Merlin, me prend par le bras et me dit à l'oreille : «La dernière fois que je suis venue dans ce studio, c'était avec François (Truffaut) et Georges (Delerue) et je suis bien contente d'être ici avec vous ce matin pour assister à l'enregistrement de votre belle musique.» On peut dire qu'elle avait su trouver les mots. J'ai pu profiter pleinement de cette première séance, et j'y ai pris goût depuis.
---

I think that Georges Delerue's music accompanies me for years, and almost without my knowledge! When UnderScores asked me to write for this tribute, I was first of all a little frightened. I'm far from being an expert in film music, I do not collect soundtracks and I do not dedicate to them a passionate cult. So I listened again Delerue's numerous soundtracks, reissues, and original LPs of his scores which I had bought in the United States (and sounds splendidly by the way). And I realized that I had been extremely influenced by his music. The tense scores (Police Python 357, The 25th Hour, L'Important c'est d'aimer [That Most Important Thing : Love]) and the most moving ones (Le Mépris (Contempt) which staggered me in Godard's movie as it does in its spectacular re-use in Martin Scorsese's Casino, Le Dernier Métro [The Last Metro], Jules et Jim [Jules and Jim], to quote only a few).
I also realize how much kids of my generation (those who were born at the beginning of the seventies) grew up with the sound of Delerue's soundtracks, the television often rerunning the movies to which he had contributed. As an almost self-taught composer, I spent a lot of my time analyzing movies, trying to understand how cinema musicians build their scores, on which elements they rely to find the best musical structure, the good textures, how composers find the good angle, the way to give to their music the right place, without paraphrasing the picture, by revealing what is unspoken, by clarifying directors' point of view.
Delerue handled movies with a great dexterity ! He went easily from a Gérard Oury's comedy to a François Truffaut's movie, possessed by the absolute joy to compose for movies, absolutely certain of his style and stimulated by the diversity. This playful relationship with cinema, this ability to stake his style on each movie, and to approach a popular comedy with the same sincerity and the same ambition as an art-house movie called to mark its time, all this earns to Delerue the place of an exceptional artist, one of the composers of the second half of the 20th century who opened up film music, and the symbol of a French style which fascinates even today movies lovers all around the world.
I will finish with a small anecdote: when I got ready to record my first orchestral score for the full-length movie directed by Sophie Marceau, Parlez-moi d'amour (Speak To Me Of Love), I was quite terrified at the prospect of listening to my music played for the first time by a huge musical ensemble. So I was in Davout studios in Paris, hoping that Sophie would monopolize the musicians' attention enough to let me disappear! Then the film editor, Claudine Merlin, took me by the arm and said : "The last time I came in this studio was with François (Truffaut) and Georges (Delerue) and I am very happy to be here with you this morning to attend the recording of your beautiful music." I can say that she knew how to find the right words. I was able to take a fully enjoy this first session, and I got to like it since that day.
POLICE PYTHON 357 | Générique