Cyril Morin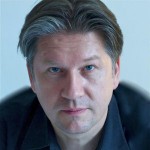 CYRIL MORIN
COMPOSITEUR
PROPOS RECUEILLIS EN AVRIL 2012
J'ai toujours été fasciné par la musique de Georges Delerue, par sa vitalité et par l'émotion unique que sa musique dégage, sans oublier sa virtuosité dans l'écriture. Quand je l'ai rencontré, en 1991, je n'avais même pas composé une musique de film. Le mystère n'en était que plus grand… J'étais épris de ses anecdotes : comment il a été le seul compositeur à accepter et réussir Tirez sur le Pianiste de Truffaut (car il fallait tout resynchroniser), comment il a annoncé à Hollywood qu'il n'avait pas besoin d'un orchestrateur (ceci mérite un chapitre, sur la finalité de l'écriture et la personnalité du compositeur) ou comment il a finalement dirigé l'Adagio de Barber (car cette musique temporaire de Platoon était impossible à remplacer pour Oliver Stone)… Et puis, il est parti trop vite, en laissant un Concerto de l'Adieu pour Dien Bien Phu.
J'ai eu l'occasion de voir deux documentaires sur lui et j'ai lu, il y a longtemps, l'unique biographie sur Delerue. J'ai ainsi compris sa déception d'avoir été rejeté par la «famille classique» d'où il venait et j'ai eu le sentiment qu'il en avait souffert. Aujourd'hui, il serait certainement sensible au fait que sa musique est jouée par les orchestres, et qu'il est difficile de faire un hommage à la musique de film sans une de ses partitions… Je rends aussi un hommage à Colette Delerue, sa femme, qui est aujourd'hui toujours présente pour défendre sa superbe musique et pour le représenter.
---

I was always fascinated by the music of Georges Delerue, his vitality, the unique emotion that his music evokes, and his writing's virtuosity. When I met it, in 1991, I had not yet composed a film score. The mystery was even bigger… I was fond of his anecdotes: how he was the only composer to accept and succeed on Truffaut's Tirez sur le Pianiste (Shoot The Piano Player), how he came to Hollywood saying that he didn't need an orchestrator (this deserves a full chapter, on the finality of writing music and the personality of the composer) or how he finally conducted Barber's Adagio (because Oliver Stone was unable to replace this temp track from Platoon)… And then, he departed too quickly, leaving a Concerto de l'Adieu for Dien Bien Phu.
I had the opportunity to watch two documentaries about him, and I read, a long time ago, the single biography on Delerue. I then understood his disappointment to be rejected by the "classical family" from which he came, and I had the feeling that he suffered from it. Today, he certainly would be responsive to the fact that his music is played by orchestras, and that it is difficult to pay tribute to film music without playing one of his scores… I also pay homage to Colette Delerue, his wife, who is always present today to defend his superb music and to represent it.
PLATOON | Finale