John Barry au Festival du Film de Gand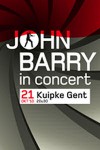 John Barry sera l'invité d'honneur du 37ème Festival International du Film de Gand, en Belgique, qui se tiendra du 12 au 23 octobre 2010. Le compositeur y recevra le Lifetime Achievement Award au cours de la cérémonie de remise des World Soundtrack Awards qui clôturera comme chaque année le festival.
Mais le point d'orgue de cette édition 2010 sera sans conteste le concert qui aura lieu deux jours avant, le 21 octobre. Nicholas Dodd y prendra en effet la direction du Brussels Philharmonic pour interpréter un florilège de l'œuvre de Barry, avec entre autres Goldfinger, Mary Queen Of Scots (Marie Stuart), Out Of Africa, Dances With Wolves (Danse avec les Loups), Body Heat (La Fièvre au Corps) ou encore Midnight Cowboy (Macadam Cowboy).
Pour en savoir plus : Festival International du Film de Gand